As professional providers of 4WD training, we get a lot of people asking us what is the best off road 4WD. And it's easy to understand why – a new vehicle is a significant investment even before you start accessorising, so you want to know that you're getting the right vehicle for the job, but before you ask what's the best off road 4WD, there are a few questions that you need to ask yourself.
What Are You Planning To Use The Vehicle For?
Is a 4WD simply a weight requirement for the caravan, boat or trailer you need to tow? Or do you want to get totally off the beaten track and do some real off road driving?  How you intend to use the vehicle has a big impact on the answer. For the sake of this article, let's assume you do intend to go off road driving and throw yourself at some of Australia's toughest country.
4WD vehicles have special capabilities, but if you lack the knowledge and skill to use them safely, those capabilities are worse than useless to you. There is a real danger in not knowing the safe and correct techniques to recover a vehicle or cross an obstacle when 4WDing, meaning that which 4WD is the best off road 4WD is as much about you as your vehicle.
Are You An Above Average Driver?
Not surprisingly, when I ask this question to a group of drivers, I'll generally see about 80 – 90% of those questioned put their hand up. Statistically, this is unlikely. What conditions have you faced? And what conditions are you prepared to face? Preparedness isn't just about having the gear; it's about having the knowledge and skill to use it safely.
I'm not saying you're not a good driver, in fact you may be an exceptional driver in the city, but how skilled are you at off road driving? Statistically speaking, there's an above average chance that at least a few of the people in the group aren't as good as they think they are. That's not their fault; today it's uncommon for people to drive long distances or experience off road driving and many will never experience challenging conditions at all. The good news is, everyone can learn.
Are You Bringing A Grenade To A Gun Fight?
You may not be able to hit a clay pigeon with a gun, but if you throw a grenade at it, you're almost certain to blow it out of the sky; however bringing a grenade to a gun fight doesn't improve your skill at shooting.
For some four wheel drivers, if they can't make it up, over or through an obstacle, then it must be the vehicles fault – they must not have bought the 'best' off road 4WD so they spend tens of thousands of dollars on upgrading the vehicle or accessories and expect that to solve the problem. And to be fair, sometimes it IS the vehicle's fault and the upgrades DO solve the problem.
However, another driver in the same vehicle but with better skills may make it up, over or through that same obstacle safely and save themselves $50 – $60 grand by not needing to upgrade to a new 4WD each time they find a mountain they can't conquer. The key words here are 'better skills' and 'safely'.
The Best Off Road 4WD
We've been running Tag Along Tours and delivering 4WD Training for over 17 years, so I can tell you categorically that in my experience, the best off road 4WD is the one operated by a safe and skilled driver who understands their own and their vehicles capabilities.
I'm not saying not to upgrade your vehicle or accessories – far from it. Having lots of equipment is great (and fun!) but if you don't actually know how to use it safely and drive the vehicle properly, then perhaps it's time to upgrade your skills and not your vehicle.
Consider doing a course to get more out of your 4WD vehicle and/or to learn new skills with it. During our training days, you will be taught how to drive and recover a 4WD safely and confidently without incurring damage to yourself, your vehicle or the environment. A lot of people we have trained have seen demonstrations of what to do (or not to do) so they understand the concepts, but with our training you're actually going to get your hands dirty!
By combining our safe and responsible approach to training with the magnificent Flinders Ranges as our backdrop, we have created truly unique 4WD driving courses and learning experiences. The courses are a structured learning program, they are flexible in their application and provide the trainee with the necessary skills required for safer off road driving and 4WD vehicle recovery, allowing you to get the most from your vehicle and yourself without breaking the bank.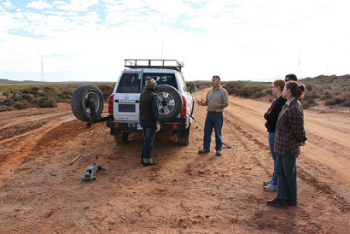 If you're interested in joining us to improve your 4WD skills and/or coming along for a great trip to discover a unique part of our 'Aussie back yard', then contact us for more information.  We now also cater for Trekkers and Trekking groups and can put together a package to suit your particular needs.