Overview  Itinerary
A detailed itinerary will be provided upon 4WD Tour booking and payment of the tour deposit.
Do you like the idea of travelling with a small group that takes it's time to explore an area properly, allows time for photography, appropriate commentary to give you an understanding of Madigan's epic trek and not driving all day through it, just to tick a box?
Our Madigan Line Tour covers the entire length of the iconic Madigan Line from Old Andado Station all the way through to Birdsville and unlike most tour operators, we take our time exploring the track (usually 8 days / 7 nights on the track itself), so you can enjoy your Simpson Desert trek, learn about Madigan and his crew and what they discovered as they crossed the desert, have time for photography and we can show you various unique desert plants and wildlife along the way.
So, join us as we follow in the steps of the first European crossing of the Northern Simpson Desert by Dr. Cecil Madigan who led his party of 9 men, using 19 camels to trek east across the desert in 1939. We visit Madigan's camps linked together by a 4WD track across hundreds of sand dunes and follow in his footsteps across the remote Northern Simpson Desert ..... Book now!
Join us as we traverse the remote northern Simpson Desert on this iconic 4WD Trip.
Dates                                  3rd May - 16th May 2024 (14 days inclusive) 
14 Days – 4WD Tag along Tour
$3,500.00 (incl. GST) per vehicle – 2 people (Additional costs for extra adults or children)
Madigan Line Track (Northern Simpson Desert) to Birdsville
Moderate to Advanced 4WDriving - Remote area touring
Some prior 4WD experience in soft sand would be useful and we will help you along the way and/or perhaps you'd like to attend one of our 4WD Driver Training & Recovery Courses prior to the trip.
Bush camps and one powered camping site. Cabin accommodation can be booked at Birdsville if you'd prefer (additional fees apply) - POA
You can camp (bring) a Swag, Tent or Heavy Duty Off Road Camper trailers only (subject to approval)
Do You require Towing Training? - Especially reversing a trailer in 4WD in deep soft sand?
All Camping fees, (CLC) Aboriginal Lands Permits & Desert Parks Passes fees, Birdsville Caravan Park fees, an Underground mine tour and your 'End of Tour' dinner are included.
2800km approximately (return from Quorn)
Your vehicle needs to have good All Terrain tyres with at least 50% tread on them and Sand flags to be attached at Old Andado Station.
You will need to carry additional fuel for this Tour, as it's along way between fuel fill ups. V8 Landcruisers - 220 litres, smaller Diesel vehicles -170 litres, Petrol vehicles - 300 litres (these figures include your main fuel tank & sub tanks - if you have them)
Minimum of three vehicles required to run the tour.
All our 4WD Tag along Tours are Eco-Accredited and we are a fully licensed Commercial Tour Operator in SA, NT & WA with 'Advanced Ecotourism', 'EcoStar' & 'ROC' Accreditations.
Only a small group of 4WDriver's cross the very remote Madigan Line each year, and you'll be amongst them!
Days 1 & 2
We leave Quorn and head north to Coober Pedy and tour an underground opal mine in the evening. On Day 2 we head north and across to Oodnadatta and on to the picturesque Eringa Waterhole to make camp. This is remote area touring but very relaxed with 9.00am starts and 'Happy Hours' on most days after Day 2.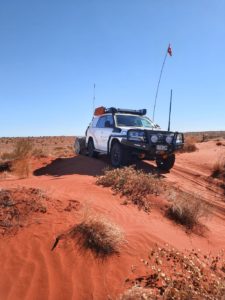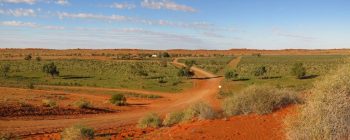 Day 3
We make our way to Mount Dare Hotel for a shower and it's our last chance to fuel up before we make the epic trek across the remote Northern Simpson Desert. From Mt. Dare we make our way to Old Andado Station to see where Mac & Molly Clarke used to live and to make camp around lunch time, so you have a chance to relax & explore the area and do some photography and have a 'Happy Hour' before dinner.
Days 4 to 11
Leaving Old Andado, we'll visit the ancient 'Waddi Trees' in the Mac Clarke Reserve before moving on to the Madigan Line to East Bore and visit Camp 1a and make camp somewhere along the track. We spend the next 8 days visiting all the Camps and the 'Footy Field' and we have access to and camp at some of them along the way, as we learn what it was like for Madigan and his crew. After Camp 24 we make our way along the QAA Line towards 'Big Red' before making our way into Birdsville and a nice hot shower!
Day 12 
A rest day and a chance to drive back out and play on 'Big Red' and look at the artesian bore, the ancient Waddi Trees north of town, a look around the towns historic sites and of course visit the Diamantina River. To complete our epic journey, we'll have a tour dinner and a drink at 'Camp 25' - the iconic Birdsville Hotel, to celebrate our Madigan Line crossing!
Day 13
Then we head southwards along the famous Birdsville Track, stopping for a drink at the remote Mungerannie Hotel before making camp near Cooper Creek.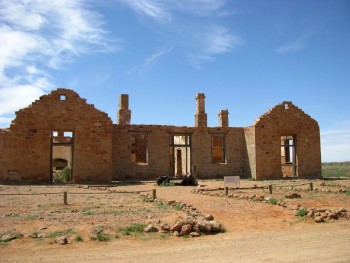 Day 14
Then it's on to Marree to see the Madigan monument, old Ghan Railway history and visit the Tom Kruse museum. That's followed by lunch at the Farina Ruins on the old Ghan Railway line and a chance to see the rebuilding work of some of the towns ruins and have a look at the unique underground bakery!
Finally, we make our way back home along the rugged and picturesque Northern Flinders Ranges skirting the western side of Wilpena Pound and back into Quorn.
NOTE: Travelling across the Madigan Line is remote area touring and you will (probably) need to carry extra fuel in jerry cans.      * Due to unforeseen weather, terrain or mechanical issues, it may take longer to do the crossing than mentioned.
1. Average temperatures in May are: Daytime, around 23 degrees Celsius and Overnight, down to 8 degrees Celsius.
2. Those travelling from interstate (e.g. Qld. & NSW) may wish to leave the Tour at Birdsville and make their way back home from there.
3. Price includes all Aboriginal Lands (CLC) Madigan Line Permit fees, Desert Parks Passes, all Camping fees, Caravan Park fees, an Underground Opal mine tour and dinner at 'Camp 25' - the Birdsville Hotel.
4. For safety - All vehicles need to carry at least 2 jerry cans of fuel (depending on your fuel tank capacity) while we are crossing the Simpson Desert.
5. All vehicles to have Front Rated Recovery Points fitted, if possible, for your vehicle - contact us for details.
6. All vehicles are to have Sand Flags fitted while in the Simpson Desert. Please contact us if you need help with organising this.