Pindan Tours and 4WD Training is a regional family owned and operated business based in the Flinders Ranges, South Australia – a place we are proud to call our home. Let us share our passion for the Flinders Ranges and Outback with you, taking people on adventurous experiences to memorable outback destinations. Over time we've learnt that

"when the spirit of adventure calls to our hearts…we must go !!"
So, "Take the Tracks less Travelled", with us!
Pindan Tours and 4WD Training was created to deliver safe, high quality and affordable 4WD Training to the Nationally Accredited level for private recreational 4WDrivers, Corporate clients and Government departments. We specialise in regional 4WD training from the Mid North of S.A. northwards to Alice Springs, across to Ceduna and east to Broken Hill and all points in between. The leading trainer has owned and operated 4WD vehicles for 40 + years and spent much of his time travelling, living, and working in the Australian Outback!
4WD TOURS
We've been running Tag-along Tours for over 25 years and Norman has been organising Outback tours for over 39 years. We specialise in small group tours which we believe makes your trip that much more authentic & memorable and you can get to know your guides and fellow travellers just that little bit better. It also means a lower impact to the unique environments we travel through and camp in.
We are a fully licensed Commercial Tour Operator in SA, NT & WA and we will take you to rugged and remote places that many don't dare venture to, and you'll be in safe hands with our experienced guides, comprehensive trip preparation information and communications and recovery equipment vital for safe remote area travel. We also offer advice on 4WD accessories and equipment and how to install and use it safely and correctly.
Our 4WD Tag along Tours are family friendly and delivered all over Australia, specialising in remote area touring. From the Goog's Track, through the Flinders Ranges & Outback (our backyard), the Simpson Desert, the Diamantina & Channel Country and right up through N.T. to the Kimberley, Pilbara, the Tanami Desert, the Great Victoria Desert, the Great Sandy Desert, the Gibson Desert and beyond!
Our goal is to ensure you have a safe & memorable trip, so leave the planning and organisation to us, while you have fun travelling and learning about the great outback, while building on your 4WDriving and Recovery skills.
If you'd like to get off the beaten track, then join us on one of our Tag along Tours, just go to our '4WD Tours' tab – we'll be off into the Flinders Ranges, our popular 'Madigan Line' – Northern Simpson Desert tour, the Anne Beadell Highway, the iconic Canning Stock Route (CSR) and the Goog's Track, to name a few!!
4WD TRAINING
Pindan Tours and 4WD Training delivers a number of 4WD Driving and Recovery Training courses in regional South Australia and Northern Territory as well as Tag-Along 4WD Tours all over Australia, specialising in remote area touring.
We deliver a variety of 4WD Training courses including Condensed, Basic & Advanced 4WDriving & Recovery courses, Quad bike & SSV (Side by Side) courses. We deliver recreational courses locally in Port Augusta and the Flinders Ranges on some gnarly tracks that will test you and your vehicle out and/or for our Corporate clients, we can train at or close to your sites. We also deliver Defensive Driving courses on Unsealed roads.
So, if you're after any 4WD Training, please click on our '4WD Training' tab to see the courses on offer or we can tailor one to suit you.
QUALIFICATIONS
Our Trainers and Assessors hold the Certificate IV in Workplace Training & Assessment and have delivered Cert. IV Workplace Training & Assessment courses previously. We have been delivering 4WD driver training continuously for over 25 years and we also hold Nationally Accredited Statements of Attainment in Basic and Advanced Four-Wheel Driving and Recovery Techniques.
In addition, Norman has the Nationally Recognised Accreditations for Side by Side Vehicles (SSV's - AHCMOM216) and Operate Quad Bikes (AHCMOM212) qualifications for the 4WD Training we deliver for those vehicles. He also has a Certificate IV in Transport & Logistics (TLI41207)  (Road Transport – Car Driving Instruction) to teach Learner drivers, as a licensed Motor Vehicle Driving Instructor (MVDI) and he specialises in Defensive Driving techniques on Unsealed (dirt) roads. He also has holds Certificate IV in Tourism (SIT40107) – Specialising in Eco Guiding.
Our Mission Statement
Our mission is to provide high quality 4WD Training and memorable adventure travel experiences that free the spirit & inspire people to have a greater appreciation of their potential and the value of the world around them.
"Take the Tracks less Travelled"
with us,
Pindan Tours and 4WD Training!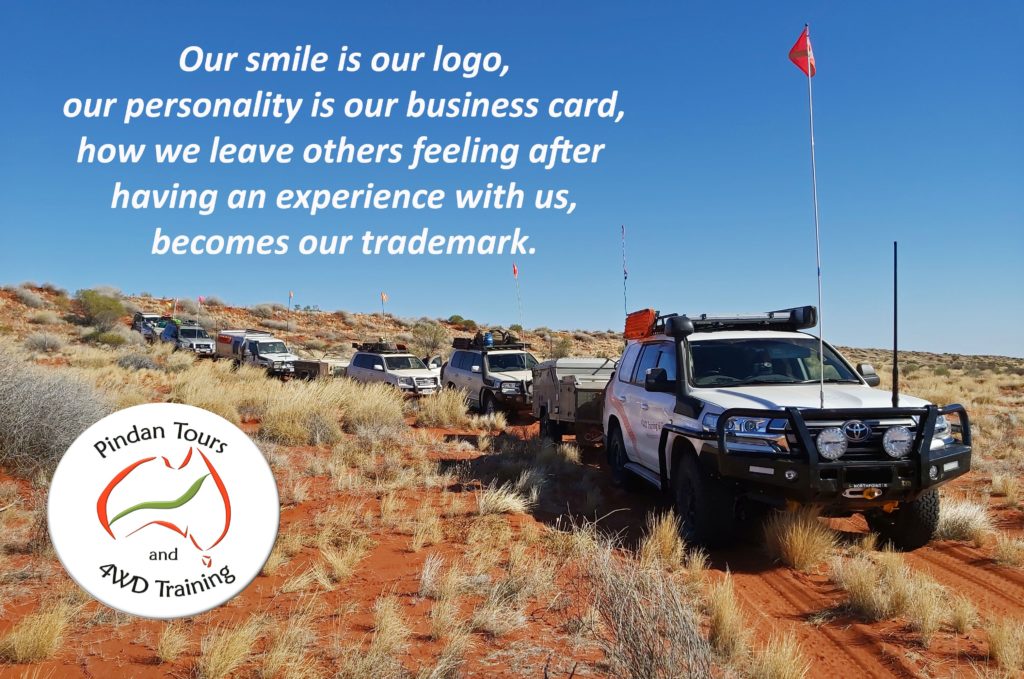 Our Brand
The essence of our Pindan Tours adventures brand is:
Authenticity, adventure and freedom.
We endeavour to change the way people see and appreciate the diverse outback, countryside and scenic wonders – that is Australia.
We do this by providing memorable experiences that inspire people to live a more adventurous life by travelling to unique destinations, that most will not venture to.
We live and do business with authenticity, fun and professionalism and are guided by our key values of integrity, responsibility, sustainability, balance, respectful communication and going beyond the ordinary.
We proudly and actively support the Royal Flying Doctor Service (RFDS) and donate a small percentage of our Tours each year to help keep them flying. We also encourage our Tour participants to donate and we will sometimes hold competitions on our tours with proceeds raised going to the RFDS.
Our Vision
To establish a trusted 4WD Adventure Travel and Training business that specialises in remote area travelling, where people can experience inspiring landscapes and cultures that change the way they see themselves and the world around them.
To train people to the highest National Standards in the safe and correct techniques when driving and recovering a 4WD vehicle.
To work with and serve like-minded people who have an adventurous and self-responsible spirit.
In the process of taking people to remote places, we support the local communities we visit and contribute to maintaining the integrity of the environments we experience.
To earn a reputation as a most trusted 4WD business, delivering quality, personal service, affordability, relatability and safety.
Our growth will be responsible, sustainable and balanced with our personal work/life balance needs.
The experience of developing and running our business will be fun, adventurous and inspiring.
What is Ecotourism?
To inspire environmentally sustainable and culturally responsible tourism;
"Ecotourism is ecologically sustainable tourism with a primary focus on experiencing natural areas that fosters environmental and cultural understanding, appreciation and conservation".(Ecotourism Australia- http://www.ecotourism.org.au/)
Principles of Ecotourism
Minimize Environmental impact.

Build environmental and cultural awareness and respect.

Provide positive experiences for both clients and local operators.

Participate in Environmental Conservation activities.

Awareness through interpretation of environmental and cultural aspects of the Australian landscape.
A bit more about Us!
For those who'd like to know a little bit more about Pindan Tours and 4WD Training and its Owner/Director Norman Greenfield Bee, below is an overview.
Norm has had a very long involvement with 4WDriving, touring and camping in the Outback. He started camping regularly at 13 and got his first 4WD at 17. He delivered his first itinerised tour in September 1983 - a 2 week tour up to the Red Centre and back down the Oodnadatta Track and into the Flinders Ranges. His family background was in the Pastoral industry, and he frequently spent time on the family Station in the NW of S.A. when he was growing up. He is passionate about 4WD Training & 4WD Touring in Australia. Having travelled extensively all over mainland Australia as a family on many of the iconic 4WD tracks and Norm has also worked in the Outback on various stations during his career as a builder and now as a contract driver.
Coralie has a Bachelor and Master's degrees in science and an Education Degree and a passion for, and a wealth of knowledge about native Flora and Fauna and is an Arid Lands Botanical Garden Tour Guide in Port Augusta. She compliments Norman on their Tag along Tours when guests want to learn more about specific plant species & flowers and native fauna and she is also a volunteer Ambulance Responder, so you're in safe hands on our Tag along Tours!
Soon after joining the Barossa 4WD Club Inc. in 1997, Norman was asked to be their lead trainer and so began his 4WD training career. He also joined 4WDSA's Driver Training Unit (DTU) and became a Nationally Accredited Certificate IV Workplace Trainer & Assessor, training members from many of the 4WD clubs throughout S.A. He was the DTU Coordinator for the Barossa 4WD Club for 15 years and was the Trips Coordinator for 8 of those years.
Norm was also Chairman of the DTU for 5 years - being responsible for 85 active trainers around S.A. Two (2) of which now deliver 4WD Training south of Adelaide. So, why not get trained by the guy that's trained the Trainers & Assessors! He was a peer instructor for the DTU delivering Cert. IV Workplace Trainer & Assessor courses, 4WD Advisor courses, Trip Leader courses and was a lead Auditor for the DTU, as it was a Registered Training Organisation (RTO) for most of his time with them.
Please contact us if you have any questions about what we can offer you or your employees about any of our 4WD Training courses or our 4WD Tag along Tours.
It's not just our Business - it's our Passion!
Coralie & Norm