Outback 4×4 Tag along Tours
Madigan Line - Northern Simpson Desert
14 days
Come on an epic trip of a lifetime as we trace the steps of Cecil Madigan on his 1939 crossing of the remote Northern Simpson Desert. Experience starry nights, warm campfires and very remote 4WDriving as we travel via Old Andado Station, traverse over 750 sand dunes, visiting and camping at the Madigan Line camps. We make our way east on our very relaxed tour as we head to 'Big Red'. We complete the crossing into Birdsville for a meal at Camp 25 - the iconic Birdsville Hotel. A few days to relax and then we head down the iconic Birdsville Track and into the magnificent Flinders Ranges.
Canning Stock Route Tour
24 days
Come on an epic trip of a lifetime as we cross WA's remote Deserts. Experience starry nights, warm campfires and very remote 4WDriving as we traverse the1800km's of the iconic Canning Stock Route. We travel from Alice Springs through the Tanami Desert as we head up the Tanami Track to the top of the CSR. Then it's southwest as we fuel up at Billiluna and make our way down the CSR. With stops at the iconic Wells along the track and some challenging 4WDriving in various terrains. We complete the crossing into Wiluna in W.A.
From there we head to Kalgoorlie for a rest day and then on to the Trans Australian Railway (TAR) road as we head east passed the rail sidings dotted along the track. No doubt we'll see some freight trains and possibly the 'Indian Pacific' as we make our way back towards Kingoonya to conclude our epic 32 day tour.
Googs Track Tag along Tour
4 days
Join us in October, for a memorable trek, 4WDriving the length of the iconic Goog's Track. We'll cross over 400 sand dunes as we make our way north to Mt. Finke and on to Malbooma siding, through Tarcoola and on to Kingoonya for a great pub meal to celebrate our trek.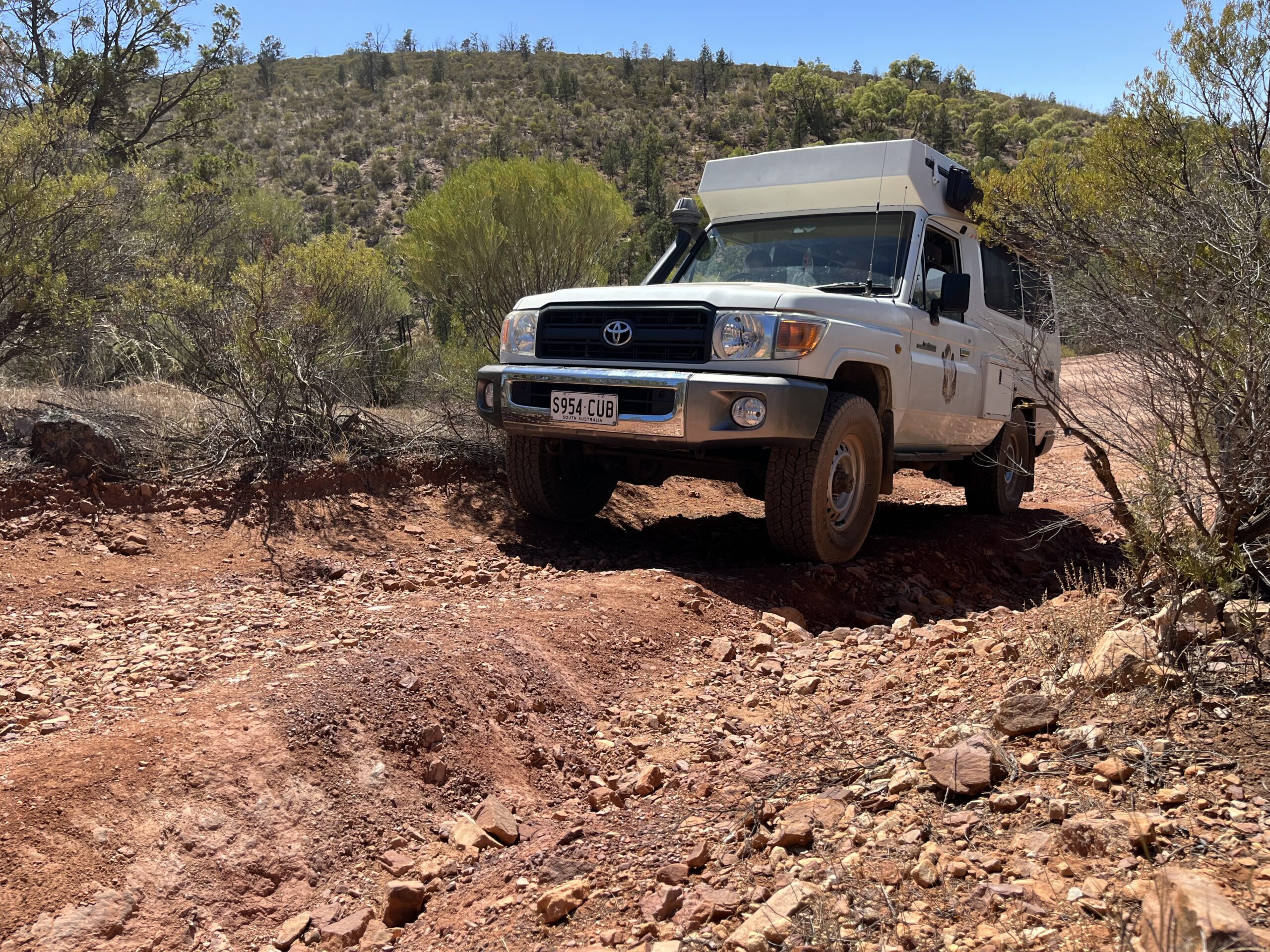 Flinders Ranges 'Gnarly Tracks' Tag along Tour
4 days
Join us on our Flinders Ranges 'Gnarly Tracks Tag along Tour! 
Do you want to tackle some of the toughest tracks in the Flinders Ranges and test yourselves and your Forby's to the limit?
Then join us in April to test out your skills on very technically challenging 4WD tracks, where wheel placement and picking the right line will be very important, but the feeling of achievement when you conquer them will be awesome!
WHAT DO YOU GET FROM OUR TOURS
Experienced Eco-accredited Tour guides with over 40 years experience operating 4WD vehicles in tough remote Australian conditions
Fully qualified Cert. IV 4WD Trainers & Assessors with Advanced 4WD & Recovery qualifications (over 25 years +) and we carry a comprehensive 4WD Recovery kit and tools for basic mechanical & electrical repairs
Fully licensed Commercial Tour Operator (CTO) in SA, WA & NT
Tours to suit Off Road Camper Trailers
Detailed Tour itineraries and assistance with your vehicle set up
UHF Radio and Campfire commentary
Our own full colour Tour Booklets
  We carry a fully stocked First Aid kit and Defibrillator, Sat phone and two Mapping software systems
Our Tours are suitable for novice & experienced travellers with no age limits
Small group Tours - so everyone can get to know each other
Once in lifetime 4WD Adventures with like minded travellers!