Our Flinders Ranges Tours – Half day and Full day catered tours and 1 to 4 day Catered and Tag along Tours
The Flinders Ranges are amongst the oldest landforms in the world with the unique opportunity to see the eroded rock layers laid bare like an open book of earths rich tapestry of colours.
Experience the magnificent Flinders Ranges, a place we are proud to call home and are passionate to share with you! Enjoy breathtaking scenery, vibrant colours, our timeless geology, wildlife, history and flora & fauna, no matter what the season!
Full Day Tour – Our most popular tour starts in Quorn as we learn all about the significance of the Old Ghan Railway, before making our way to Hawker, with a visit to the Jeff Morgan Gallery to see the 'Wilpena Cyclorama' which reveals the full scale of this mighty mountain range. There's also a second and much larger cyclorama of 'Nooldoonooldoona Waterhole' near Arkaroola, in the very rugged northern Flinders Ranges, which is breathtaking as you stand in it and look up as though you were there in the creek bed itself. As we head east from Hawker the sun highlights the Pindan orange on the Elder Range and Wilpena Pound's bluffs, as we pass the Chace Range and onwards to skirt the base of Wilpena Pound itself.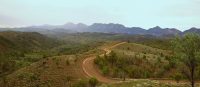 A scenic drive in the Bunyeroo Valley as we meander through picturesque valley's and low hills dotted with rocky outcrops, native pines and shrubs. We often see Wedge Tail Eagles soaring the skies above and kangaroos, emus, lizards and other wildlife as we make our way along the dirt road and then climb to Razorback lookout, with a view that has graced many a calendar, travel magazines, tourist brochures and postcards. From there we make our way down into Brachina Gorge considered 'a corridor through time'. Brachina Gorge is a window into 650 million years of the earth's history, providing geologists with crucial information about a time long before sure-footed Yellow Footed Rock Wallabies made their homes among these tortured rocks. It's a photographer's dream as the rocky quartzite and sandstone escarpments, huge river gums and picturesque valley's make for great photos made even better against such a dramatic and ancient backdrop.
From there we head south skirting the western wall of the Flinders Ranges until we turn off and pass through Partacoona Station, a working sheep and cattle station and visit some historical sites as we make our way back to Quorn. It's a big day out and you'll learn and see heaps of new things!
Our 2 and 3 Day Flinders Ranges Tours can be tailored to suit your budget and personal interests. Both of these tours include our Full Day Tour (as above)


and then 1 or 2 nights at Beltana Station where you can camp out under the stars or have the luxury of rooms at the shearer's quarters. We explore this huge outback property by 4WD and can take you through outback red sandunes to the edge of Lake Torrens (a massive salt lake), through ancient ironstone ranges and scenic gum lined creeks visiting remote outstations or across to the picturesque Puttapa Springs and on to explore the Sliding Rock copper mine ruins and Beltana township too.
Flinders Ranges and Arkaroola Highlights Tour – 4 Day Catered Tour  (Fast becoming another popular tour!)
Day 1 – Covers our Full Day Tour (as above) but as we come out of Brachina Gorge we head north alongside the western wall of the Flinders Ranges to Beltana Station, a working sheep and cattle station to spend the night in rooms in the shearer's quarters and for a great outback style dinner in the Woolshed restaurant and a chance to enjoy the night under our magnificent southern skies.
Day 2 – After breakfast we follow more of the Old Ghan Railway line and continue to learn about its history as we head north to Aroona Dam and then on to Copley to visit the bakery! Heading east we follow the Vulkathunha Gammon Ranges Road deep into the very rugged northern end of the Flinders Ranges as make our way to the Arkaroola Wilderness Sanctuary. Arkaroola features rugged mountain terrain with towering peaks, scenic gorges and lovely waterholes. Upon our arrival at Arkaroola Resort we settle into our rooms to freshen up before a relaxed dinner and an Observatory Tour of the Southern Hemisphere night skies.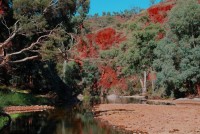 Day 3 – This morning we experience Arkaroola's world famous signature tour – the Ridgetop Tour. We travel in specially designed 4WD vehicles for an unforgettable encounter with the timeless terrain and unique natural beauty of the area with 360 degree views from Sillars lookout including Lake Frome and the vast outback beyond the ranges. After lunch you have the option of doing the Acacia Ridge Walk or take an optional scenic flight over Lake Frome or over the Arkaroola Sanctuary itself.
Day 4 – We leave the unique Arkaroola area and make our way south to explore the old copper mining town of Blinman and go underground on the Blinman Mine Tour. After lunch we make a brief stop at the Great Wall of China before making our way back through the Flinders Ranges National Park and on to Quorn for a dinner at the magnificent Austral Inn Hotel.
Ready to make a Booking click HERE or for further enquiries contact us on: 0410 511 633 today.