Off Road Adventures at Puttapa Station

When you're looking to explore the Flinders Region, why not start with the best? A working station since 1854, Puttapa Station isn't just an historical treasure trove, it's also an incredibly diverse region boasting a variety of 4WD tracks to suit everyone.
What's There
Offering a range of accommodation from bush camp sites (included in Pindan Tag along Tours) through to the beautiful and historical Overseer's Cottage, which was built in the late 1800's, Puttapa Stations facilities have something to suit everyone.
But while a comfy bed and delicious meals cooked on the campfire certainly add to the experience, it's the 4WD tracks that make this Station the perfect base from which to explore the Flinders on your very own off road adventures.
Off Road Adventures
Picture a vast salt bush plain cut by a ridge of steep, jagged mountains, scarred by river beds lined with lush Red Gums. Whether in flood or drought, the spectacular scenery including creeks, natural springs, iconic Australian red sand and picturesque historical ruins, is not for the faint of heart.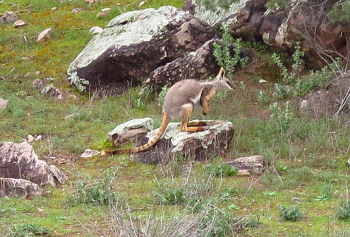 Yellow Footed Rock Wallabies, Fresh Water Turtles and the odd brave lizard provide photo opportunities while Norm & Coralie provide expert guidance. At between 580 – 800 million years old, the terrain around the Flinders Ranges is rugged and is best encountered with experienced guides.
Puttapa offers different 4WD tracks and you'll get to experience this extraordinary landscape over our 4 day Tag along Tour.
From the beautiful postcard perfect banks of the Puttapa Spring and on out to the Sliding Rock copper mine, Puttapa Station will allow you to test yourself and your 4WD skills, while enjoying the incredible Australian landscape.
If you're looking for the perfect getaway and an all-round incredible experience, speak to us about our incredible off road Tag along Tour adventure to Puttapa Station. When you're surrounded by some of the most powerful and breath taking scenery Australia has to offer, you'll be glad you did.