Eco-Tourism VS Sustainable Tourism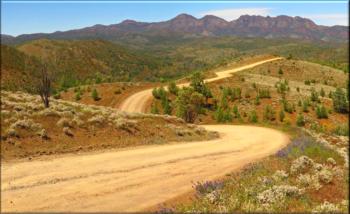 The iconic Wilpena Pound in the central Flinders Ranges
Tourism in Australia has been well established for many years and contributes billions of dollars to the economy each year. But only recently has there been a shift toward more sustainable and ethical tourism practices.
"The survival of some of the world's wonders is now out of control; we can only achieve balance through ecological approaches." says travel bud and expert car broker Burke Wilson of Great Rides.
However, in the confusion, eco-tourism and sustainable tourism are frequently used interchangeably. But do they mean the same thing?
What Is Eco-tourism?
Eco-tourism is similar to, but not the same as sustainable tourism. It aims to promote environmentally responsible and culturally responsible tourism. This means promoting environmentally friendly practices, practicing responsible conservation, and respecting local cultures and communities.
To put it simply, Ecotourism Australia defines Ecotourism as "ecologically sustainable tourism with a primary focus on experiencing natural areas that foster environmental and cultural understanding, appreciation and conservation."
Principles Of Ecotourism
Reduce the environmental impact.
Increase cultural and ecological awareness and respect.
Ensure that both clients and local operators have a positive experience.
Participate in activities that promote environmental conservation.
Environmental and cultural awareness through interpretation
What is Sustainable Tourism?
  Our popular 'Madigan Line' – Northern Simpson Desert Tag along Tour 
Sustainable tourism helps preserve the environment by promoting environmentally friendly practices that benefit everyone. It is a broader term than Eco-tourism because it refers to a set of guidelines rather than a specific mode of travel.
The United Nations World Tourism Organization defined sustainable tourism as "tourism development in the environment, economy, and society. To ensure long-term sustainability, we must establish a harmonious balance between these three dimensions."
These principles are referred to as the three pillars of sustainability: Economic impact, Socio-cultural impact, and Environmental impact. These principles aim to ensure that consumers can make environmentally sustainable choices in their travel, including where they stay and what they do.
Criteria For Global Sustainable Tourism Include:
Sustainable management
The socioeconomic consequences
Cultural ramifications
Environmental impacts (including consumption of resources, reducing pollution, and conserving biodiversity and landscapes)
Eco-tourism VS Sustainable Tourism
According to industry consensus, Eco-tourism is more concerned with ecological conservation and educating travellers about local environments and natural surroundings. In contrast, sustainable tourism is concerned with travel with the most negligible impact on the environment and local communities. Eco-tourism is a tourism or vacation category similar to: beach, adventure, health, or culture. In contrast, sustainability can apply to all types of tourism.
The International Ecotourism Society (TIES) defined eco-tourism in 2015 as "responsible travel to natural areas that conserves the environment, sustains the well-being of the local people and involves interpretation and education" with the specification that education is to staff and guests."
Meanwhile, the UN Environment Program and the World Tourism Organization define sustainable tourism as "tourism that takes full account of its current and future economic, social, and environmental impacts, addressing visitors' needs, the industry, the environment, and host communities."
So, you can engage in Responsible Travel and Eco-Tourism with us – Pindan Tours and 4WD Training
Pindan Tours and 4WD Training is a regional family-owned and operated business based in South Australia's Flinders Ranges – a place we are proud to call home. We are fully Ecotourism accredited for all of our 4WD Training Courses and all our 4WD Tours all over Australia, proudly holding the highest certifications in Australia – 'Advanced' Ecotourism (with Ecotourism Australia) and 'EcoStar' (with TiCSA) accreditations demonstrating our commitment to delivering high quality 4WD Training and 4WD Tag along Tours that are sustainable and with a minimal impact on the environments we deliver 4WD training in and travel through.
We take people on adventurous experiences to memorable outback destinations – because when the 'Spirit of Adventure calls to our hearts – we must go!'
So, Contact us at: in**@pi*********.au and click on our 'Bookings' tab for Tour bookings or enquiries or if you'd prefer to talk to us first, phone us on: 0410 511 633 and 'Take the Tracks less Travelled' with us!
Article by: Maya Coleman and Norman Bee
Photographs by: Norman Bee © – Pindan Tours and 4WD Training