Red Centre – Tracks, Trucks and Trains – Tag along Tour – SA & NT
16 Days – 4WD Tag along Tour / Vehicle (2 people)
$3,500.00/vehicle (incl. GST) Per vehicle – 2 people (Additional costs for extra adults or children)
Alice Springs via Oodnadatta Track following the old Ghan rail line and West MacDonnell Ranges, Kings Canyon, Uluru and Coober Pedy.
Moderate 4WDriving with rough gibber and sandy sections on the Oodnadatta Track and on the old Ghan line
Some prior 4WD experience on gibber and in rocky and sandy terrain would be useful but we will help you along the way or perhaps you'd like to attend one of our Driver Training Courses prior to the trip. 
Bush camps and some powered camping sites and a motel room for our stay underground in Coober Pedy
All Camping & Caravan Park fees, Jeff Morgan Gallery fees, Flinders Ranges National Parks pass, Aboriginal Lands Permits (Uluru), Field of Lights tour, Underground Motel stay in Coober Pedy and a Pub dinner in Alice Springs, Pichi Richi Train (return) trip and an End of Tour lunch at the Austral Inn Hotel in Quorn
4000 km's approx. (return from Adelaide)
Minimum of 3 vehicles required to run the tour.
All our 4WD Tag along Tours are Eco-Accredited and we are a fully licensed Commercial Tour Operator in SA, NT & WA with 'Advanced Ecotourism', 'EcoStar' & 'ROC' Accreditations.
Days 1 – 5
We start off with an overview of the Central Flinders Ranges and being filled with nostalgia as we travel alongside the old Ghan Railway line from Quorn in the Flinders Ranges to Marree and we'll visit various Ghan ruins along the way. Then we turn west on to the famous Oodnadatta Track visiting and camping at the more significant rail sidings.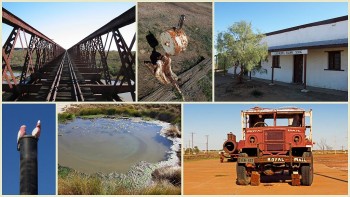 We visit several hot artesian springs and some old railway infrastructure as we make our way along the Oodnadatta Track to the remote outpost of William Creek where you may like to take a short scenic flight over Lake Eyre (depending on flight availability) before moving on to take some photos of the famous Algebuckina Bridge and then on to set up camp at the nearby Algebuckina waterhole.
Lake Eyre Flight - From William Creek
1 hour flight over Lake Eyre - $260.00 per person
2 hour flight over Lake Eyre & Painted desert - $420.00 per person
Days 4 – 6
Moving on to Oodnadatta itself and a visit to the famous Pink Roadhouse and then we head north onto Hamilton Station to camp and relax at the peaceful and very scenic Eringa Waterhole.
Forging north we follow the old Ghan Line into very remote and hospitable gibber country to see the challenges they faced when building the railway skirting the edge of the Simpson Desert and travelling through this unique part of Australia. A visit to the most remote pub in Australia, Mount Dare, and then on to Finke and we'll make a slight detour and visit Lambert Centre (the Geographical centre of Australia). Another minor detour out to Chambers Pillar before re-joining the last part of the old Ghan Railway line literally, as we drive on sections of it, where the tracks once laid, all the way into Alice Springs.
Days 7 – 9
At Alice Springs we get to relax and you'll have some downtime and we recommend a visit the Transport Hall of Fame (Truck and the Ghan Museum), check out the RFDS Base & Museum – so important as a 'Mantle of Safety' in the Outback, the Town Lookout or the Reptile & Bird Park – a must see! After a 3-night stay and refuelling and resupplying, we leave 'The Alice' and head west through the West McDonnell Ranges and camp in and explore this ancient part of Australia with its waterholes and gorges, so unique in the desert.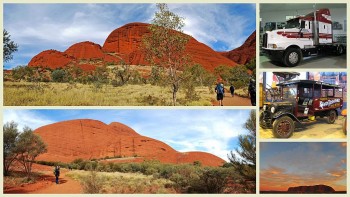 Day 10
We make our way down to Kings Canyon via the Mereenie Loop Road (another iconic Track) and visit Gosse's Bluff (a huge meteorite crater) and then on to explore Kings Canyon itself. The 'Canyon Rim Walk' is a must and if you want a break from cooking - a visit to the local pub for a great feed is recommended!
Kings Canyon Flight - 15 minute helicopter flight over Kings Canyon - $150.00 per person
Kings Canyon Flight - 30 minute helicopter flight over Kings Canyon & Gill Range - $285.00 per person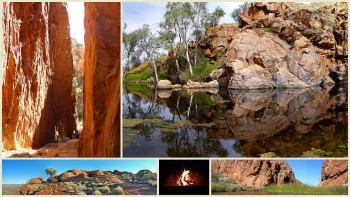 Day 11 to 13 
From there we head south to Yulara so we can visit Uluru (Ayres Rock) and either climb it or do the base walk or you can hire a bike (depending on how you feel) and then on to Kata Tjuta (The Olgas) to walk the 'Valley of the Winds'. We'll also take the opportunity to view a sunset and view the 'Field of Lights' (50,000 stems of light in frosted-glass spheres) while we're there – something really special!
Grand view Rock & Olgas Flight - From Yulara - 36 minute helicopter flight over Ayres Rock and the Olgas - $310.00 per person
Days 14 – 15
When we eventually leave 'The Rock' we get to see the new (transport), as we'll see numerous modern Road Trains and the occasional freight Train as we make our way home. We make a brief detour into the 'The Breakaways' and follow the 'old Dog Fence' as we make our way into Coober Pedy for a unique overnight stop and stay in an underground motel room with all the luxury of modern conveniences!!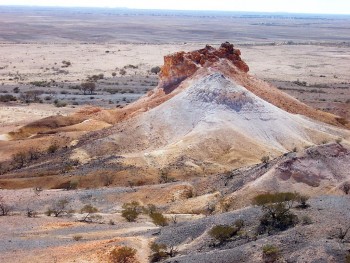 Day 16
From there we head home via a stop at Lake Hart where we'll no doubt see the latest heavy freight and 'Super Freighter' Trains, as we head to Pimba, through Port Augusta and on to Quorn. Back in Quorn and you'll have the next day off (Friday 17th) to rest, relax and explore Quorn. On Saturday the 18th and as a finale to our Tracks, Trucks and Trains Tour, we'll spend the day together travelling on the Old Ghan (Afghan Express) from Port Augusta to Quorn and completing our tour having an End of Tour lunch at the Austral Inn Hotel and a chance to relive the highlights and your favourite moments of our trip before returning on the train to Port Augusta to collect our vehicles and drive back through to Quorn or on to your next destination.
Tour End Date: 16th August 2018 Actual last day is Saturday 18th for those who can stay on
**  Clients are advised to ensure they have extra time available. Delays may occur depending on the condition of the roads, possible weather events and any unforeseen mechanical issues.
Note: To take advantage of the full 16 days, it is requested that you are packed and ready to go on the Wednesday morning from Quorn which is approximately a 4hr (336km) drive from Adelaide.
If you choose to stay at the Quorn Caravan Park, please say you're doing a Tour with us and you'll receive a discount off your campsite or accommodation. Gary & Bronwyn at the Quorn C.P. can be contacted on (08) 8648 6206.