Our Special '40th Anniversary' Tag along Tour – SA & NT
Our Special '40th Anniversary' Tag along Tour
Join us on our very special 40th Anniversary Tag along Tour, as we retrace Norm's first 'Outback Tour' way back in September 1983!
We follow as close as we can to the Old Stuart Highway as we head north through Kingoonya and across station country to Coober Pedy. Then it's on to Yulara to explore Uluru & Kata Tjuta for a few days and then up to walk through Kings Canyon and Gosse's Bluff before we drive around the Mereenie Loop and into the magnificent West MacDonnell Ranges. A few days to relax in Alice Springs and a trip out to Ross River in the East MacDonnell's before we head south to Kulgera and then down the iconic Oodnadatta Track, learning all about the 'Old Ghan' Railway history, then down through the Flinders Ranges (via Wilpena Pound) and eventually returning to Quorn.
Overview Itinerary
Note: A detailed itinerary will be provided upon 4WD Tour booking and payment of the tour deposit. We also provide detailed Tour notes as a memento of the history, facts and figures of the places we visit along the way!
Monday 18th of September to Tuesday 3rd of October 2023 (inclusive).
16 Days – 4WD Tag along Tour / Vehicle (2 people)
$4,000.00/vehicle (incl. GST) Per vehicle – 2 people (Additional costs for extra adults or children)
We follow the old Stuart Highway to Coober Pedy and on to Uluru, Kings Canyon, the West MacDonnell Ranges and into Alice Springs. From there it's south via the Oodnadatta Track exploring the Old Ghan railway line history back to the Flinders Ranges.
Moderate 4WDriving with rough gibber and sandy sections on the Oodnadatta Track and on the old Ghan line.
No prior 4WD experience needed and we will help you along the way or perhaps you'd like to attend one of our Driver Training Courses prior to the trip, just to familiarise yourself with your vehicle and understanding the various terrains we will be driving though. 
Bush camps and some powered camping sites.
*Motel rooms & Cabins can be booked at some locations along the way (for an additional fee) for those who want a break from tenting (TBA).
Swags, Tents, Off Road Camper Trailers and Off Road Caravans are suitable on this tour. 
All Camping & Caravan Park fees, Flinders Ranges National Parks day pass, Aboriginal Lands Permits (Uluru), Field of Lights tour, a pub dinner at Kingoonya Hotel and an 'End of Tour' dinner at the Austral Inn Hotel in Quorn.
4000 km's approx. (return from Adelaide)
Minimum of 4 vehicles required to run the tour.
All our 4WD Tag along Tours are Eco-Accredited and we are a fully licensed Commercial Tour Operator in SA, NT & WA with 'Advanced Ecotourism', 'EcoStar' & 'ROC' Accreditations.
Days 1 & 2
We leave Port Augusta as we trace the steps of Norm's first ever itinerised 4WD Tour in 1983! We head north to Pimba, Lake Hart, Glendambo and on to Kingoonya for our first night stop and a 'Welcome to Tour' dinner at the iconic Kingoonya Hotel.
On to Coober Pedy to have a look around town before refuelling and moving on to visit Marla Bore and camp nearby.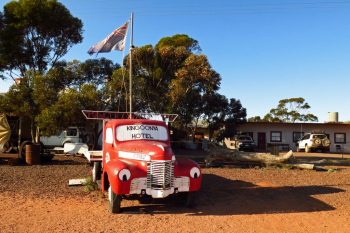 Days 3 & 4
From there we head to the SA/NT border and on to Kulgera and Yulara to explore Uluru (Ayres Rock) and do the base walk or you can hire a bike or Segway and then on to Kata Tjuta (The Olgas) to walk the 'Valley of the Winds'. You'll also be treated to the 'Field Of Lights' experience (50,000 stems of light in frosted-glass spheres) while we're there – along with the Sunsets, it's something really special! 
               Heli Flights  (from Yulara - current 2022 prices)
15 minute helicopter flight over Uluru - $165.00 per person
25 minute helicopter flight over Uluru & Kata Tjuta- $275.00 per person
36 minute helicopter flight over Uluru & Kata Tjuta- $330.00 per person
Days 5 – 6
We make our way up to Gosse's Bluff (a huge meteorite crater) and climb the pinnacle on the inside for an great view and then on to Kings Canyon to explore Kings Canyon itself. The next morning we do the 'Canyon Rim Walk' a must do!
             Heli Flights - (current 2022 prices)
Kings Canyon Flight - 15 minute helicopter flight over Kings Canyon - $175.00 per person
Kings Canyon Flight - 30 minute helicopter flight over Kings Canyon & Gill Range - $320.00 per person
Days 6 & 7
We leave Kings Canyon after lunch and head north via the Mereenie Loop Road and make our way to the magnificent West MacDonnell Ranges to camp at Glen Helen Gorge Resort. We'll explore Ormiston Gorge and Big Ellery Waterhole and camp at Birthday Waterhole and explore this ancient part of Australia with its waterholes and gorges, so unique in the desert.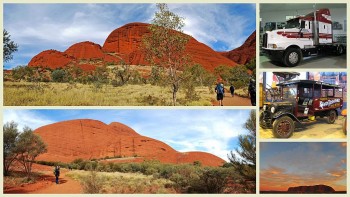 Days 8 - 10
We make our way east to Simpson Gap and Stanley Chasm before heading into Alice Springs for a few days to relax and you'll have some downtime and we recommend a visit the Transport Hall of Fame (Truck and the Ghan Museum), check out the RFDS Base & Museum or the Reptile & Bird Park – a must see! After a 2-night stay and refuelling and resupplying, we leave 'The Alice' and head south for Kulgera and Marla and then across to the Oodnadatta Track.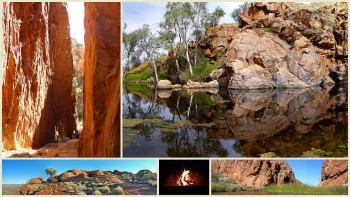 Days 11 & 12 
An overnight stay at Tarcoonyinna Creek and then on to Oodnadatta itself to camp at the iconic Pink Roadhouse and then we head south to the famous Algebuckina Bridge, as we follow the old Ghan Line in very remote gibber country to see the challenges they faced when building the railway and travelling through this unique part of Australia. 
Days 13 & 14
We make our way down to William Creek (you may like to take a flight over Lake Eyre), and then visit several hot artesian springs and some old railway infrastructure as we make our way to Marree and on to camp at Farina.
        Plane Flights from William Creek - (current 2022 prices)
Lake Eyre - $320.00 per person
Anna Creek Painted Hills - $320.00 per person
Anna Creek Painted Hills & Landing - $420.00 per person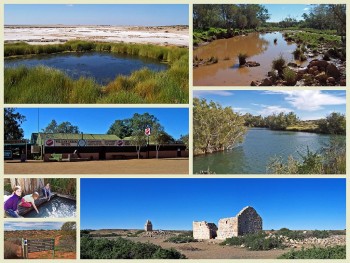 Days 15 & 16
We finish off with an overview of the Flinders Ranges, as we travel alongside the old Ghan Railway line down via Parachilna and Wilpena Pound and finish in Quorn and our 'End of Tour' dinner to celebrate our epic 40th Anniversary adventure!
NOTES:
**  Clients are advised to ensure they have extra time available. Delays may occur depending on the condition of the roads, possible weather events and any unforeseen mechanical issues.
A minimum of 4 vehicles is required to run this tour.
Price includes all Aboriginal Lands Permit fees, Desert Parks Passes, all Camping & Caravan Park fees, 'Field of Lights' at Uluru and a 'Welcome to Tour' dinner at Kingoonya Hotel and an 'End of Tour' dinner at Quorn.
Note: To take advantage of the full 16 days, it is requested that you are packed and ready to go on the Monday morning from Quorn which is approximately a 4hr (336km) drive from Adelaide. We will also collect clients from Port Augusta on the way through.
If you choose to stay at the Quorn Caravan Park, please say you're doing a Tour with us and you'll receive a discount off your campsite or accommodation. Gary & Bronwyn at the Quorn C.P. can be contacted on (08) 8648 6206.