Corner Country and Hay River Track 4WD Tag along Tour
Overview Itinerary
A detailed itinerary will be provided upon booking and payment of the tour deposit.
9th to 23rd June 2018 (inclusive)
15 Days – 4WD Tag along Tour
$2,995.00/vehicle  (incl. GST) per vehicle – 2 people (Additional costs for extra adults or children)
Corner Country, Diamantina & Channel Country and Hay River Track to Birdsville
Moderate to Advanced 4WDriving
Some prior 4WD experience in sand would be useful and we will help you along the way and/or perhaps you'd like to attend one of our Driver Training Courses prior to the trip.
Bush camps and some powered camping sites. Rooms at Birdsville are extra.
Camping fees, Aboriginal Lands Permits & Desert Parks Passes fees included
4800 km's approx. (return from Adelaide)
A minimum of 3 vehicles is required to run this tour
Day 1 – June 9th
We leave Broken Hill and head north through Milparinka and Tibooburra and on to Olive Downs Station.
Day 2
We make our way west to the first of our corner's, Cameron Corner and then on to Innamincka to camp on the Cooper Creek.
Day 3
We visit Burke & Wills Dig Tree on the way to our next camp and our second corner, Haddon Corner.
Days 4, 5 & 6
From Haddon Corner we make our way into the Diamantina and Channel Country and visit the towns of Bedourie and Boulia, before heading west to Tobermorey Station. Then it's down the Plenty Highway to Jervois and our last fuel point before we head east for a relaxing break at Batton Hill.
Days 7 to 12
We'll have a rest day at Batton Hill exploring the area and watching the sunset with a 'Happy Hour' at Goyder's pillar. From there we turn south and on to the iconic Hay River Track, as we make our way to Lake Caroline and through the various Camps towards the third corner, Poeppel Corner and on to 'Big Red' and then into Birdsville.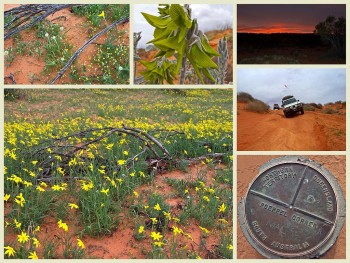 Day 13
A rest day and a chance to look at the ancient Waddi Trees and a look around the towns historic sites and of course a visit to the magnificent Birdsville bakery with its unique pies and tarts! To complete our epic journey, we'll have a tour dinner and a drink or two at the iconic Birdsville Hotel, to celebrate our tour!.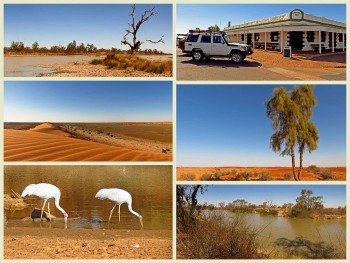 Day 14 
Then we head southwards along the famous Birdsville Track, stopping for a drink at the Mungerannie Hotel and a look around the wetlands before making camp at Clayton Station.
Day 15
Then it's on to Marree to visit the Tom Kruse museum followed by a visit to the Farina Ruins on the old Ghan line. Finally, we make our way back home along the rugged and picturesque Northern Flinders Ranges and back into Quorn.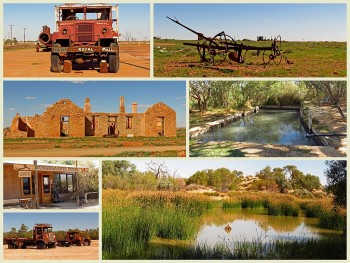 Those travelling from interstate may wish to leave the Tour at Birdsville and make their way back home from there.
Price includes all Aboriginal Lands Permit fees, Desert Parks Passes, all Camping fees and dinner at the Birdsville Hotel.
All vehicles to have Sand Flags fitted while in the Simpson Desert.